A Wine and Craft Beer Shop
As Distinctive as The Flavors We Serve
Our spacious and bright 5,000 square foot location is home to a full tasting lounge, gourmet food market, a beautiful wine library with over 10,000 bottles and 40 feet of beer coolers stocked with top craft beers from around the world. We're the ideal place for you to stop and quickly find the perfect wine, beer and food pairing items for your next dinner party, or simply, come in and spend hours at leisure tasting our wines, icy cold craft beers, cheeses, fresh baked bread, and other gourmet food options, all from various regions around the globe.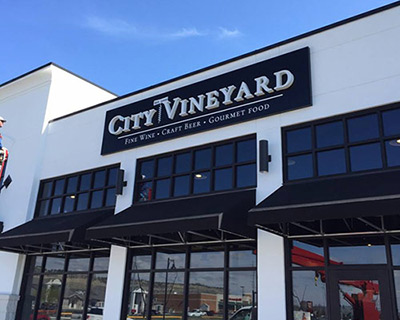 COME ENJOY THE BEAUTIFUL NEW LOCATION
City Vineyard Fine Wines, Craft Beer, and Gourmet Food
Explore A World of Flavor
We are continuously updating our shelves to provide you the opportunity to explore the dynamic flavors in the world of fine wine, craft beer, and gourmet foods. We allow you to expand your palate by bringing you top seasonal beers on-tap, featured cellars, seasonally constructed artisan cheese selections, and so much more.
It's Our Team that Sets Us Apart
Our staff will always be poised to help you make a satisfying selection, whether you plan to shop and take your selections home with you, or sit and relax while we serve you delicious specialty food paired with your wine or beer selection in our beautiful and comfortable lounge.
What Our Customers Say
"These people go ABOVE and beyond all the time! So helpful, kind and knowledgable!! Love love love!!"
– Kelley A.
"The Owners and Staff are wonderful! They provide the best customer service and have great knowledge of their wines, cheese, meats and other accessories. "
– Gary B.
"Wonderful collection of cheese, at perfect ripeness."
– Henry M.
FROM THEN TO NOW
A Journey Through Our History
Established in December of 2000. Originally opened in a tiny little space near 23rd and Grand Ave with an all-beverage license, stocked with wine, spirits and and humidor for cigars.
2005 – Moved to a more spacious and central location at the corner of 17th Ave and Grand Ave.
2009 – Sold and Changed license to a beer and wine license and added the gourmet market and brought in some craft beer. The gourmet market and new craft beer scene really set us apart from our competitors at that time.
2015 – Growth in our wine bar along with the growth of the craft beer and gourmet food scenes began the growth and development of a plan to expand the business further.
2016 – Broke ground on new Billings location, at 32nd and Grand Ave in the growing West end of town.
2017 – Relocated to the brand new Billings West End location with expanded gourmet food market, a designated craft beer department, and the area's largest wine and beer tasting lounge, including a 20 tap wall.